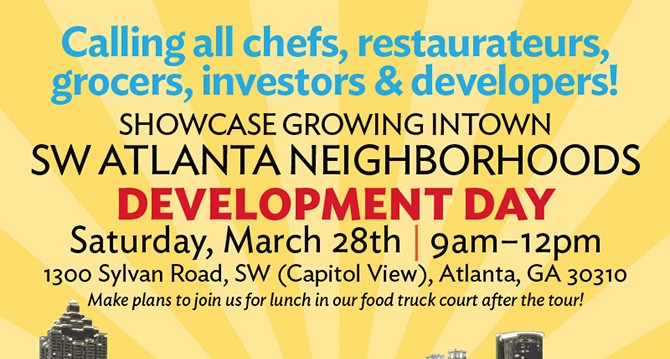 Intown SW Atlanta Neighborhoods Development Day
March 13, 2015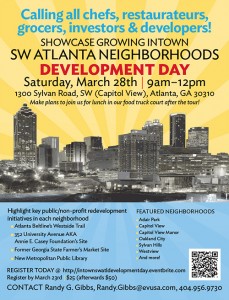 A group of intown SW Atlanta neighborhoods has joined together to host a development day for chefs, restaurateurs, grocers, investors, and developers to showcase the development potential in the area.
The day will include a presentation and breakfast, followed by a bus tour around the featured neighborhoods:
– Adair Park
– Capitol View
– Capitol View Manor
– Oakland City
– Pittsburgh
– Sylvan Hills
– Westview
Each featured neighborhood will have a representative on the bus to talk about their neighborhood, current development, as well as development potential.
The bus tour will end at the food truck court at 1318 Sylvan Road (U-Haul lot) where participants will be greeted by neighbors and are encouraged to eat lunch. The Tasting Maine, Atlanta Chamos Grill and Urban Taali food trucks will be there.
For more information click on the flyer above or visit the event link: http://www.westviewatlanta.com/event/intown-sw-atlanta-neighborhoods-development-day/
To sign up visit: http://intownswatldevelopmentday.eventbrite.com/
Tags: adair park, capitol view, capitol view manor, developers, development, economic development, intown atlanta, oakland city, pittsburgh, southwest atlanta, special event, sylvan hills, west end, west end park, westview