Westview Community Garden Fundraiser, Art Auction and Dance Party
August 22, 2015 @ 11:00 pm

-

August 23, 2015 @ 4:00 am

EDT

$50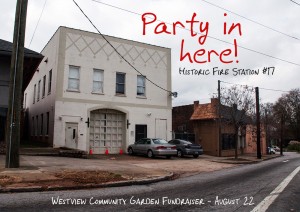 The Westview Community Organization is holding a fundraiser to help raise money to pay for the recent purchase of the Westview Community Garden on South Gordon Street. A group of generous neighbors offered the community organization a loan to purchase the land. The sale is complete, so now we need to pay back the loan!
The fundraising event will feature a night of fun, including food, drinks, DJs and a silent art auction.
SPONSORS:
Our sponsors for the event are:
Sponsorship opportunities are available for your business starting with a $250 donation. Please contact us for more info.
DJs:
Ralo
Earl the Third
Spunkie
SILENT ART AUCTION:
Artwork, gift certificates, and more.
Artists/Artwork
Gift Certificates and Products
The silent art auction will end at 11:00pm. Please have your cards/checks/cash ready.
FOOD & DRINKS:
The following food and beverages will be available as part of your entry fee:
Beef brisket by Char Wars
Grilled chicken by Scott Smith
Butternut squash soup, couscous with greens and herbs, and kale salad by Teena/Mystic Roots*
Salad and blackberry apple cobbler by Westview Pizza Cafe
Iced honey lavender tea and shiso mint tea by Andrea "LeLovebird"*
Sweetwater 420
Wine
Coca-Cola
Water
*Harvested from HABESHA's gardens at the Dubar Center and Omenala Griot Museum.
Food and drinks will be available until supply runs out.
TICKETS:
Minimum donation for entry is $50/person, and the fee includes music, food, and drinks, but please consider giving more! Please make your donation in advance to our GoFund me campaign and bring a print out of the receipt for the donation to gain entry. http://www.gofundme.com/WestviewGarden
If you can't attend we'd still appreciate a donation to our GoFundMe campaign: http://www.gofundme.com/WestviewGarden
HISTORY OF THE COMMUNITY GARDEN STORY:
Please read more about the community garden on our website:
http://www.westviewatlanta.com/2015/04/neighbors-rally-to-save-community-garden/
And in Creative Loafing:
http://clatl.com/freshloaf/archives/2015/04/14/westview-community-garden-demolished-but-not-the-neighborhoods-dreams