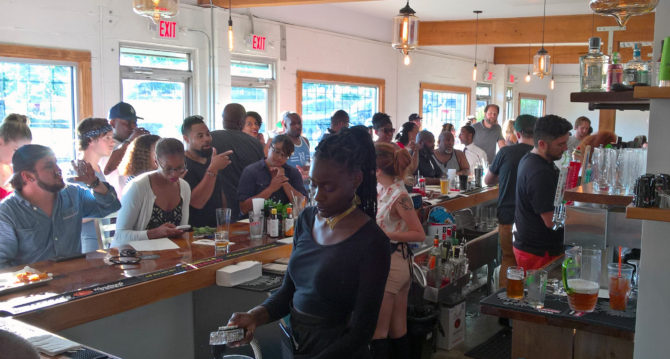 Lean Draft House Opens on the Westside Trail
June 16, 2017
The much anticipated Lean Draft House officially opened for business on Friday, June 16th, 2017. Lean Draft House, located near the White St access point along the BeltLine Westside Trail and adjacent to Gordon White Park, features twenty local craft beers on tap and handcrafted tacos.
The opening of Lean Draft House marks the first new business to open along the BeltLine Westside Trail. The trail is slated for completion at the start of August. Once the trail is open to the public, Lean Draft House will be just a short walk from Westview.
In addition to a spacious interior decked out in natural wood, there is an outside seating area and bocce court. Lean Draft House is also home to Lean Motorsports, so make sure to browse the impressive collection of motorcycles.
Currently, the hours are 5:00pm to 10:00pm, Tuesday through Saturday (subject to change).
The beer selection on the opening weekend featured brews from Sweetwater, Monday Night, Creature Comforts, Orpheus, Jekyll, Scofflaw, Wild Heaven, Terrapin, and others.
Tags: atlanta beltline, beer, beltline, craft beer, development, economic development, family-friendly, intown atlanta, local beer, restaurant, southwest atlanta, west end