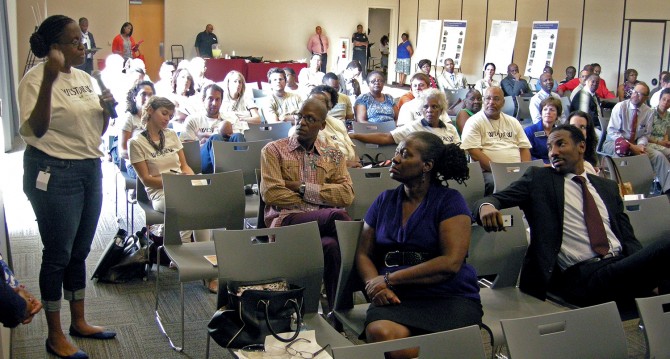 Infrastructure Bond Meeting Photos
September 10, 2014
The City of Atlanta has determined that a $1 billion infrastructure project backlog currently exists. In an effort to address at least part of the backlog they are proposing a $250 million bond. As part of the process citizens are able to provide input through a series of meetings (June 2014, September 2014, January 2015) before heading to the polls in March 2015 to vote on the selected projects.
Westview has been very active trying to promote projects from the Westview Master Plan to be incorporated into the proposed infrastructure bond list. After the initial infrastructure bond meeting in June residents met to determine which priority projects from the Westview Master Plan should be proposed to the city. The community then continued with a heavy email campaign to city employees and councilmembers, followed by Executive Committee members meeting with members of Public Works. To further drive the point of the community's strong desires to have Westview projects included in the bond referendum 32 community members showed up to the phase two meeting at Atlanta Metropolitan College.
To learn more about the infrastructure bond visit http://www.atlantaga.gov/infrastructure.
To view photos of Westview in action at the infrastructure bond meeting view the photo gallery below (click "continue reading") or visit the Westview Facebook page.
Tags: bonds, development, economic development, improvement, infrastructure, intown atlanta, landscape, repairs, southwest atlanta, streets, streetscape, west end park, westview