Westview Centennial Celebration
June 14, 2010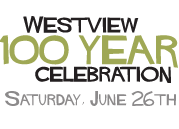 Date:
Saturday, June 26th
Location:
KIPP STRIVE Academy
1444 Lucile Ave SW
Atlanta, GA 30310
www.kippstrive.org
Schedule:
9:30am – 10:30am: Atlanta BeltLine 5K
10:30am – 11:00am: Ribbon-cutting
11:00am – 11:30am: Ceremonies
11:30am – 4:00pm: Grill-off, music, games, and artist/vendor market
What:
The Westview neighborhood is excited to be celebrating its centennial!
100 years ago William J. Davis purchased the Westwood Park property from the Ontario Land Company for $100,000. He renamed the property "West End Park", and hired Solon Zachery Ruff, the civil engineer and landscape expert responsible for Ansley Park, to lay out the plans for his new residence park neighborhood. The lots were auctioned off, and neighbors built beautiful Craftsman bungalows along the wide streets.
Today Westview is a vibrant (and still affordable) in-town neighborhood only five minutes from downtown and seven minutes from Midtown! Come spend a day with us and get to know one of Atlanta's last hidden gems.
The Atlanta BeltLine is sponsoring a free 5K run/walk in conjunction with the grand opening of phase two of the Westview/West End Trail. Immediately following the 5k will be a neighborhood celebration, featuring a grill-off, music, games, and an artist market!
Things to Bring:
Picnic blankets, camping chairs, an appetite, $5 for the grill-off, sunscreen, cold water, smiles.
Read More:
www.westviewatlanta.com/centennial
Tags: 100 years, bbq, block party, celebration, community, cook-out, food, grill-off, kipp strive academy, party, southwest atlanta, wco, westview, westview centennial celebration, westview community organization