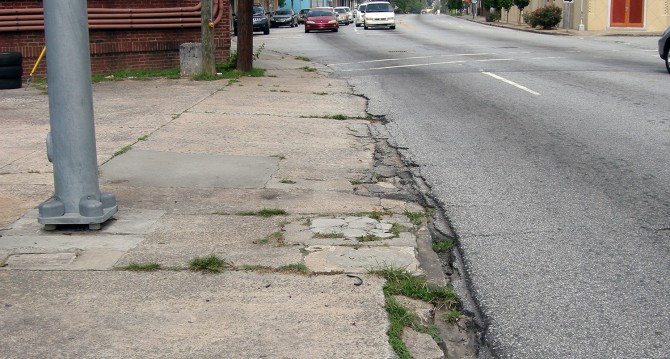 Updated Infrastructure Bond FAQ
March 16, 2015
With March 17, 2015, being imminently before us, we want to provide a follow-up on our previous Infrastructure Bond FAQ story with some updates on the latest projects and links to the information provided by the City of Atlanta.
Westview Projects (as of 3/16/2015):
Citywide Projects:
Cascade Road/Avenue: The project scope may include milling and repaving, sidewalk & bus stop improvements: bicycle lanes and median/pedestrian refuge islands along Cascade Ave/Road between Delowe and Road Abernathy Boulevard. (Citywide Project – "Complete Street")
R.D Abernathy Blvd: Complete Street improvements inclusive of curbing, sidewalk and pedestrian improvements from Cascade Avenue to Westview Drive. Resurfacing will be completed by GDOT. (Citywide Project – "Complete Street")
Beecher Street: Resurfacing from Donnelly Avenue to Ferris Street. (Citywide Project – "Roadway Resurfacing")
R.D. Abernathy/Georgia Avenue: Upgrades along major thoroughfares to optimize signal operations and communications network to ATCC. (Citywide Project – "Traffic Communication Corridor")
Download complete project list (as of 3/16/2015): Citywide Projects
Local Project Priorities:
This project list is comprised of suggested projects that resulted from meetings with Council Members and thousands of comments received from the public during three rounds of public meetings, website comments, phone calls and e-mails. These are suggested projects and additional analysis is required to determine the feasibility, scope, budget and limits.
Suggested District 4 Projects:
I-20 Bridge (Langhorn and I-20): District 4 – Local Project Priorities – "Bridge"
Langhorn Street SW Resurfacing: District 4 – Local Project Priorities – "Resurfacing/Sidewalks"
Lucile Avenue: District 4 – Local Project Priorities – "Bridge"
Suggested District 10 Projects:
Beecher Street and Road: District 10 – Local Project Priorities – "Decorative Street Lights"
Ralph David Abernathy: District 10 – Local Project Priorities – "Decorative Street Lights"
Rogers Avenue: District 10 – Local Project Priorities – "Decorative Street Lights"
South Gordon Street: District 10 – Local Project Priorities – "Decorative Street Lights"
Alvarado Terrace: District 10 – Local Project Priorities – "Resurfacing"
Derry Avenue: District 10 – Local Project Priorities – "Resurfacing"
Emerald Avenue: District 10 – Local Project Priorities – "Resurfacing"
Stokes Avenue: District 10 – Local Project Priorities – "Resurfacing"
Westwood Avenue: District 10 – Local Project Priorities – "Resurfacing"
Beecher Street: District 10 – Local Project Priorities – "Sidewalks"
South Gordon Street: District 10 – Local Project Priorities – "Sidewalks/Resurfacing"
Download complete project list (as of 3/16/2015): Suggested Local Council District Projects
#RenewATL #RebuildATL
Tags: abernathy, beecher, bonds, cascade, development, economic development, improvement, infrastructure, intown atlanta, landscape, repairs, southwest atlanta, streets, streetscape, west end, west end park, westview